Hi everyone :)
Adele
here
Welcome to Imagine This Friday Challenge
Today I wanted to make something really simple but decorative, so decided to make a Christmas decoration using the Imagine More cartridge that came with the Imagine, plus add 2 cached patterns from Snow Angel.
So here is what I made
This was really quick to make, so here is what you need to do to make your own.
Firstly select a border from the Imagine More cart, size 2 @ 2.5" and the other 2 @ 2", then using the 2 cached Snow Angel patterns, flood fill your borders.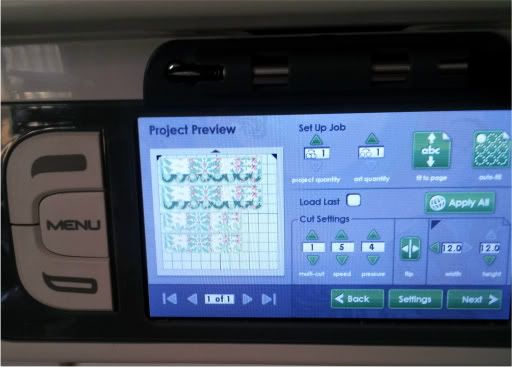 Score your borders on every divide and through the centre of the hole to give an even accordian folded border, mine worked out at every 5/8 of an inch.
Stick both ends of each border together in relevant sizes ie. both 2.5" borders glued together to form a circle
I also used a circle punch to cut 4 circles to join the flattened circles to.
Pop the smaller circle onto the top for added dimension and there you have it...Simple :)
( To cache a pattern from a different cartridge, just select a basic shape, click the edit pencil, this brings you to the edit screen, choose your chosen pattern by holding your stylus on the pattern for a few seconds, a pop-up window will appear saying "Cache Pattern", click it and it will save it in the machine's memory and add it to the end of your next plugged in cartridge's patterns.)
I hope you enjoyed this quick project and your challenge is to make your own with any cached pattern you wish.
Have fun & happy crafting
Hugs
Adele